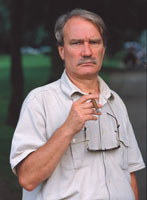 Hendrik Carette (°Brugge, 1946) is geen ambteloos burger, maar woont en werkt in Brussel. Meer bepaald in Schaarbeek, waar ook Michel de Ghelderode, l'enragé de Schaerbeek, lange jaren heeft gewoond en gewerkt.
Hendrik Carette is een dichter, maar schrijft ook nog kritieken, essays en aforismen. Hij is een gevreesd polemist en vertaalde gedichten van Henri Michaux en Christian Dotremont in het Nederlands. Hij schrijft columns voor het maandblad Meervoud en is o.m. medewerker aan Ons Brussel en de Poëziekrant.
In Nederland publiceerden zowel de tijdschriften Gedicht (het nr. 6 van 1976) als Maatstaf (nr. 9, jaargang 44 van 1996) telkens 3 gedichten.
In de beruchte bloemlezing van Gerrit Komrij De Nederlandse poëzie van de negentiende en twintigste eeuw in 1000 en enige gedichten (Uitg. Bert Bakker) is hij sinds jaar en dag present met twee gedichten en ook in het schitterende kijkboek Misschien het tedere begrijpen. Dichter bij Kunst van Jos en Maurits Smeyers (Davidsfonds/Literair, 1999) staan twee van zijn beeldgedichten naast werken van Fernand Khnopff en Paul Delvaux.
Gedichten van Hendrik Carette werden vertaald in het Duits (Lyrik seit 1960,Westfalen-Westflandern, Eine zweisprachige Anthologie, Münster : Kleinheinrich, 1989), het Catalaans, het Servo-Kroatisch en recentelijk in het Fries.
Introduction:
Hendrik Carette (b. 1946, Bruges/Belgium) first became known in the late seventies as a drifter and a romantic poet. Studied at the University of Life: Mon université c'était le pavé.
Travelled to Ameland, where he waded in the mud-flats of the Dutch Wadden shallows. Visited Tozeur and Nefta at the edge of the desert in Tunesia. Carette published several poems in reviews and anthologies and became a 'poet's poet'.
He also translated poems of the famous French author and painter Henri Michaux (Namur, 1899 - Paris, 1984) and Christian Dotremont (Tervuren, 1922 - Buizingen, 1979), the founder of 'Cobra'.
Carette settled in Brussels where he recently finished his new book Pact met Pound (Pact with Pound). His poetry is not uniformly difficult, and much of the early poetry is, in its immediate object and effect, in fact, far from obscure. He believes to be en ligne directe avec le ciel.